Do you have a favorite park in town? Do you frequent a park that you want to keep all to yourself? On the blog this week, we'll recap a few fan favorites and also discover a few lesser known parks recommended by LRB Agent Charlie Watkins. But first, if you missed our 2019 Park Series, you'll find Part 1 & Part 2 on the golrbblog archive.
The City of Winston-Salem Recreation & Parks Departments maintains and operates 79 parks! That's 79 opportunities to stretch your legs from sunrise to sunset. Of these 79, you'll find Charlie frequenting Lockland Park with his lunch in tow, taking a nice a pace on the new running track at Happy Hill Park & longing for the care-free playground days as he admires the awesome playground at Bowen Boulevard Hansel B. Thomas Park.
Lockland Park

401 Lockland Avenue
photo from WS Journal
A quiet, tree filled area in the heart of Lockland Avenue provides a wooded retreat to have a picnic lunch or just sit and enjoy the scenery.If you don't live near Lockland Park, this may be one you've missed, so drive on over for a visit.
Happy Hill Park

1230 Alder Street
Photo from City of WS during 2018 renovations
With recently completed renovatins & upgrades, this park is still shiny and new and is a great place to take families with young kids. Please note that playgrounds are still closed due to Covid19 but the splash pad is open!
Bowen Boulevard Hansel B. Thomas Park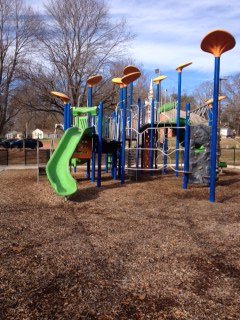 2350 Bowen Boulevard
Enjoy the trails, shaded reading & picnic areas here! If you hit the park at just the right time in the mornings, you'll have it all to yourself. Although the playground is still closed due to Covid19, you'll still have plenty to enjoy.
Thanks to Charlie for sharing a few of his favorite parks – look for him the next time you visit. To download the full list of parks visit the City of Winston-Salem Parks & Recreation website where you'll find the full list of area parks, their addresses & special features each park offers. Comment below with your own favorite parks & recommendations!