The holidays in the Triad look a bit different this year, but the treats we get to eat don't have to change! Many of our local bakeries and restaturants are offering delivery & curbside delivery to ensure we can celebrate the tastes of the season at home. So be sure to stay safe this holiday season, support those local businesses and celebreate safely. Learn more about the Triad's best holiday treats below!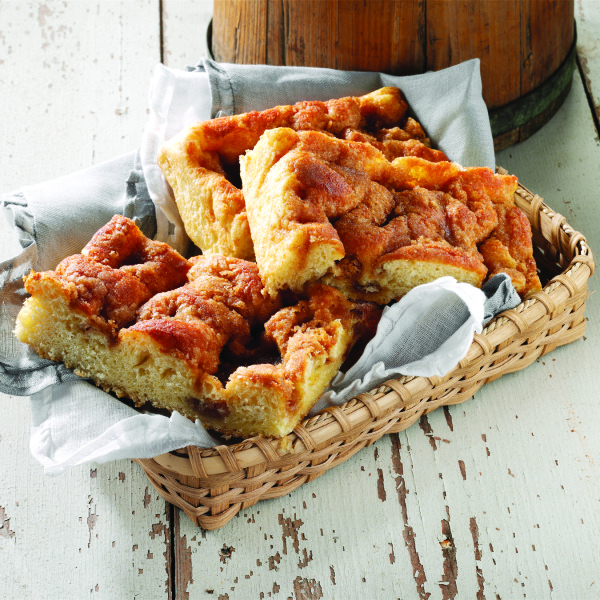 Moravian Sugar Cake
Moravian sugar cake is a sweet coffee cake historically found in Moravian settlements like historic Old Salem on the outskirts of downtown Winston-Salem. It is made with sweet yeast dough and enriched with mashed potatoes! Topped off with butter, brown sugar and cinnamon, this rich cake is a holiday brunch favorite. Be sure to check out specialty sugar cakes – the Devonshire (icing and pecans) and Grandpa Coffee Cake (caramel glaze, pecans and coconut)
Fun Fact:
Moravian sugar cake enthusiasts identify the best cake as one with, large holes or indentations. According to the Visit Winston-Salem website, "Moravian men sought out their women partially based on the size of their thumbs. The bigger the thumb, the more gooey goodness …."
Moravian Sugar Cookies
Moravian sugar (or spice) cookies also originated from the Moravian Church settlements and are dubbed "the world's thinnest cookie." Traditionally, the cookies were cut with animal cookie cutters as part of the Nativity tradition. There are now a variety of flavors available for cookie lovers, but sugar and spice are still the top two flavors.  
Lovefeast Buns
Traditionally served at Moravian Lovefeasts (candlelit Christmas celebrations) these dense and slightly sweet buns are flavored with lemon, orange, and nutmeg. Pro tip – pair with your morning coffee or have a mini sandwich with leftover Christmas dinner ham.
Enjoy your treats this season or let us know if we can help you find a new home near one of these special shops.