After 32 years in Real Estate, Mary Preston Yates, REALTOR® announces her path towards the next phase of her real estate career with the announcement of a new team partnership. Beginning in early 2021, Mary Preston will bring on new real estate agent, Sarah Keiser, REALTOR®, J.D.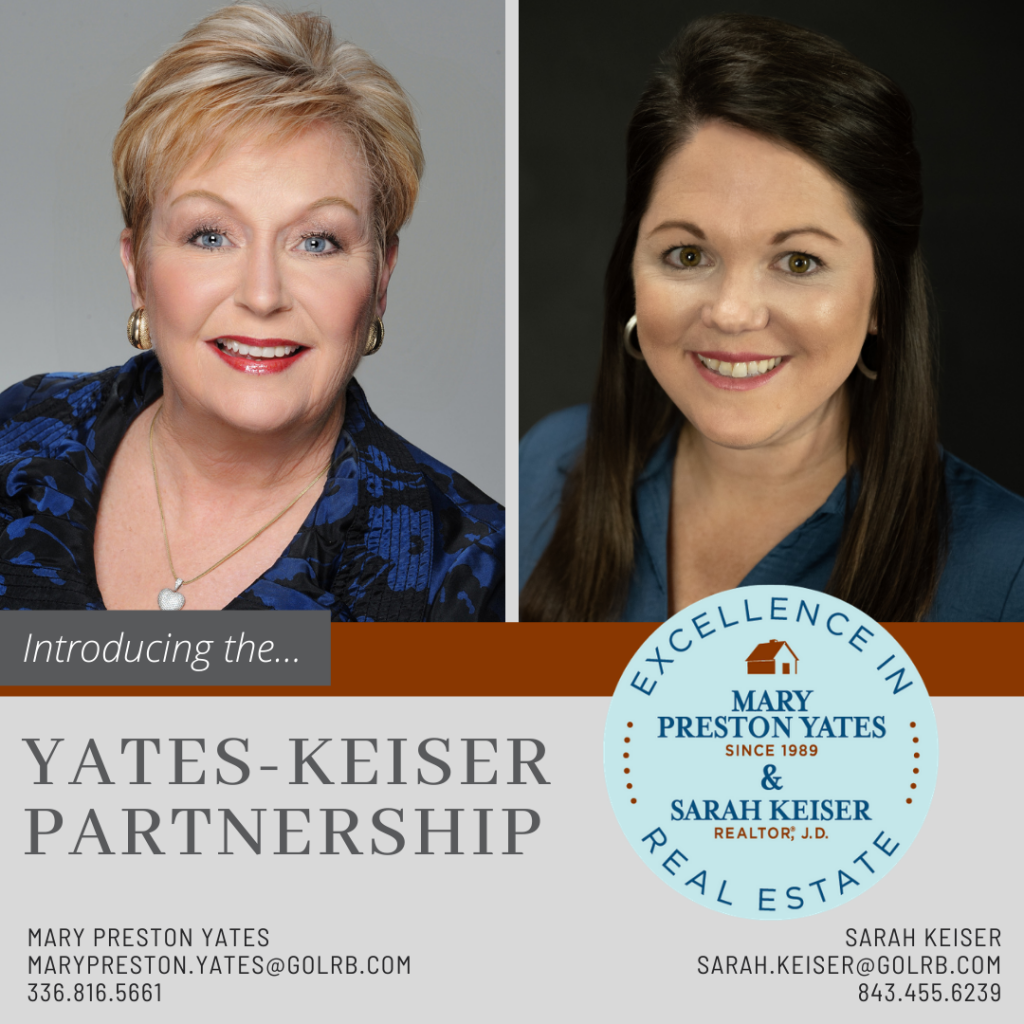 Yates, who began her career as a real estate professional in 1989 quickly earned her title as a real estate expert and began earning distinction as an annual top producing agent in the Triad. In her career she has served clients through 3 brokerages with her last seven years having worked with locally owned Leonard Ryden Burr Real Estate. Since beginning at Leonard Ryden Burr Real Estate, Yates has held the Top Agent position.
Yates says, "I love the friendships I've established with each buyer and seller I've worked with – real estate is more than a job for me – it's my life calling. I've been in the business for 32 years and I imagine I will always be in the business, but it's time for me to make one last big career splash."
Joining Mary Preston to form The Yates-Keiser Partnership, is Sarah Keiser. A native of Myrtle Beach, SC. Sarah is a 2012 Cum Laude graduate of the College of Charleston and a 2016 graduate of the University of South Carolina School of Law. Sarah holds licenses in both North and South Carolina. Prior to joining The Yates-Keiser Partnership at Leonard Ryden Burr Real Estate, Keiser most recently practiced law at Surratt Thompson and Ceberio, PLLC in Winston-Salem. Prior to her relocation to Winston-Salem, Sarah served as a law clerk for the Honorable R. Markley Dennis, Jr. in Charleston. SC
"It was very important to me to bring on a partner with a law degree. In this business having someone who can navigate each part of a contract and explain that with ease to clients is invaluable. Along with Sarah's business acumen she also holds a wide variety of connections to the Winston-Salem community. Her mother grew up in Winston-Salem as well as her husband, Kristopher Keiser."
When considering the partnership with Yates, Keiser said she, "was drawn to the idea of working with Mary Preston, having had the opportunity to know her on a personal level before considering a partnership with her. This industry will allow me to reach a new network of clients while still being able to use my law degree and that is very important to me. Having Mary Preston as a partner, and as a mentor, will be truly invaluable in this exciting new chapter."
In 2020, Yates rounded out one of the most interesting years the real estate market has seen. For the first time, viewing homes, preparing a home to be sold and hosting Open Houses was disrupted by the COVID-19 pandemic. Learning to navigate the world on different terms as well as ere on the side of caution, Yates was able to continue to serve clients and produced $25,507,650 in sales.
"Mary Preston's unlimited energy and expertise has resulted in her well-earned success. I worked with Mary Preston early on in both of our careers while at Graham and Boles Properties in the 90s. I knew she was a power house and knew eventually we could convince her to come to our team," says Curtis Leonard, REALTOR® & co-owner of Leonard Ryden Burr Real Estate. "We're excited to see Mary Preston grow her team and look forward to having Sarah & The Yates Keiser Partnership as part of the Leonard Ryden Burr Real Estate family."